Other pages on the site
Woman on top sexual positions
Click on the pictures further down the page to expand them.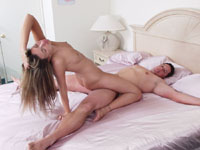 If you're a man, you'll have spent a fair amount of time thinking about this - it's the stuff of fantasy!
To have her on top, giving you pleasure, watching her body as she moves up and down your penis, slowly teasing you, watching you seductively as she moves, controlling her movements and savoring her power as she keeps you in the relentless grip of her vagina.
Yes, it's a good sexual position for fantasy, for sure - but does it live up to its billing?
Well, probably.
As always, the best sexual position for you and your partner is a matter of individual preference, but it's fair to say that making love with the woman on top is very popular with both men and women - and for some very good reasons.
You may find the coital alignment technique helps you have a better sex life, and in particular it can help women to achieve orgasm during intercourse. Click here for more information.
Men find this sexual technique exciting because it's less often used by couples than the man on top position - and so it produces a different set of sensations as you make love.
And it's restful, so no matter how much you as a man like thrusting, it gives you a more relaxing experience.
The techniques a woman can employ as she skillfully rides you can tease you and keep you on the edge of orgasm until the sexual tension seems almost unbearable, and all the while you have the chance to see her breasts or buttocks, depending whether she is facing towards or away from you.
And for a woman, the position has some great advantages.
She can control the pace and rhythm of sex; she can get a sense of her sexual power; she can see the pleasure she gives her man; and she can take the dominant role during sex.
You'll see a lot of material written about how these woman on top techniques can produce orgasm.
Yet in reality they don't, because most men come too quick (see here for information on ejaculation control).
Since woman on top sexual techniques allow you both to get away from the idea that sex is something in which a man has to be dominant, it can be good for the relationship, bringing a greater sense of equality and enabling men who are secure about their own masculinity to relax and stop feeling they have to be "in charge" during sex.
Woman on top lovemaking - how to enjoy this position the best!
This isn't complicated! If you're a man lying on your back with an erection, and your female partner is straddling you, then the basic variation is whether she faces towards your face or your feet as she inserts your penis into her vagina.
Many men find their penis is bent uncomfortably if their partner is facing towards their feet - in fact, it may not even be possible for you to insert your penis into her if it points straight up towards your chest when it's erect.
But as always - think of the fun you can have trying out this sex position!
As you can see in the pictures above (which, by the way, all expand if you click on them), a woman has plenty of opportunity to take a dominant role during woman on top sex.
And since her body is not constrained by her partner's, as it may be during man on top sex, she has the freedom to move into the position that best suits her and gives her the greatest pleasure.
Variations on the woman on top sexual position
The woman lies on top
Woman on top sexual positions can give you a whole variety of sensations, depending on the angle at which the woman lies on top of the man.
What's best for you and your partner will be something you only discover when you try this position, since the angle and shape of each couple's vagina and penis are slightly different.
But a good starting point is to have the female partner lie on top of the male partner with her chest close to his.
The physical feelings here can be very strong. Their intensity will depend chiefly on how closely the woman keeps her legs together.
If she lies with her legs inside the man's and keeps them very close together, his penis will be squeezed in a way that is hard to achieve in any other sexual position, and though he is likely to ejaculate quickly, the feelings will be stronger for the woman as well.
For a woman who likes the sense of penetration and the feeling of her man's penis inside her, this is a powerful experience.
It's exactly like this sexual position, except that the man and the woman are the other way up....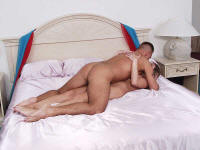 Obviously sex will last longer if there is less pressure on the man's penis, as there will be when she keeps her legs further apart:
Other variations on woman on top positions
Variations on the woman on top positions are all about the angle of the penis in the vagina, and the fact that the woman gets different sensations when the man penetrates her from different angles.
These exciting techniques can be just as powerful for the man because different positions stimulate different parts of his penis and also put different degrees of pressure on it.
Why not try it out - you can have a great deal of fun and be very playful in experimenting with these different sexual positions!
Other sexual techniques
The woman on top faces towards the man
As you can see, in this sexual position the woman has a great deal of flexibility in the angle at which she leans on her man.
Each way of making love will provide deliciously different sensations for her vagina and his penis, and in some cases the different techniques also provide added pleasure for both partners because they can see his penis entering her, or see each other's buttocks, or her breasts.
Another enjoyable thing about this position is that he or she can play with her clitoris (and his balls) to make this even more pleasurable.
Having her on top while still lying face to face has some additional benefits: for instance, if he is very heavy, or if for any reason deep penetration is unwelcome, it is simply a more comfortable sexual technique.
If she kneels astride her man as he lies on his back under her, she has the choice of timing and rhythm and she can also control the depth to which she is penetrated.
She can rub her own clitoris either with a finger or against her partner.
Although most women prefer making love on their backs, there's no doubt that the second most favorite position for sex is this one.
Men like it too because they can pass their hands around her buttocks and freely feel the movements of their penis. And a man can increase her stimulation by stroking her labia and her anus.
This sexual technique involves a lovers' tender embrace
It's always possible to rest during your lovemaking, to talk, to look at each other, and to feel the sexual energy moving between you.
One sexual position where you can not only do all of this but also look deep into each other's eyes is the one shown below, which is a true lovers' embrace, a position in which you can discover exactly how your partner is feeling and see just what he or she would like next.
Resting will allow your sexual energy to accumulate, so that when you do finally go for your orgasms, they may well be much more intense than they would otherwise be.
You can also sit up unsupported if you put your arms around each other.
While you do this, she can clench her vaginal muscles around his penis, and he can twitch his penis inside her to provide enough stimulation to keep his erection.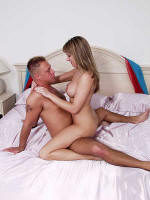 The woman on top faces away from the man (aka "The Reverse Cowgirl") - an exciting technique for all!
We've already mentioned that men may find this sexual position uncomfortable, but if you can manage it, sex in this position can be a very different experience.
It isn't a position that all men will appreciate, because it puts a lot of pressure on your penis when your partner sits on you facing away - and for men who have a small, hard erect penis that points upright when they are fully aroused, it may even be impossible to get into this position.
It's worthwhile being careful when you try it, to ensure that you don't bend your penis too far forwards and cause yourself any discomfort.
Other variations on woman on top sexual positions
There are plenty of other possible variations you can try, some of which are shown below.....
A man talks about woman on top sexual positions
You've heard the old expression that women can just lie back and enjoy sex! Well, this is the time when men can lie back and enjoy it!
The relaxing position, the lack of effort - you don't have to support yourself on your arms - the view of your partner's breasts as she rides you, and the sight of yourself penetrating her as you make love - all these things and more make this a wonderful position and one that both sexes can relish!
More to the point, the woman has the chance to control how sex proceeds. She can control the pace, the rhythm and the depth of penetration, and if she's into getting off during intercourse then she might even be able to rub her clitoris along your body, making it more likely she can reach orgasm during sex.
But the main thing, I think, is the chance of equality. So often we think of fucking as something a man "does to" a woman, and the female orgasm as something that a man "gives to" his partner.
But neither of these things are true - women are (or should be) responsible for their own orgasms, and men are (or should be!) equal partners in sex with women.
When your female partner's on top, she's running the show, she's the one who can thrust, she's the one who can control how quickly her man comes to orgasm, and she's the one who's more likely to be able to come during sex. These wonderful techniques are there for the taking.....
The first time we tried it, I must admit it shocked me to find how much I resented having my partner fucking me!
It took a while before I could let go of my preconceived ideas about male and female roles during sex, and relax while she put my erection inside her and used it to get off - I felt like a living dildo!
The fact is, if you feel like this, then you simply must tell your partner, discuss it, talk it through, and sort out the way you both feel.
I do still prefer man on top sexual positions - but not by much! That's not because I feel insecure when she's on top - it's more about the fact that man on top sex feels better for me. But then again, if woman on top sex feels better for my partner, I guess it's only fair that we take it in turns! I found some great information about sex and sexuality on this website, by the way.
Woman on top sex positions
Q & A from emails sent to us about positions, pleasure and performance!
Question: A young woman emailed us to ask how you can get maximum pleasure from woman on top sex.
Answer: There are some general rules during sex which help to make it much more pleasurable for you both - first is to consider what your partner needs and wants.
That's not to say you should put your partner before yourself, but certainly make sure you consider what they want.
So, for example, if you're trying out woman on top sex, and you're the woman, don't just lunge up and down on his penis without checking with him if he'd prefer a slower, more gentle movement!
The speed of sex is under your control, sure, and you can always move faster if you want to, since this might be what you need to get off, but only do that with his agreement.
You know how it feels when a man pounds hard into you when he's on top - that can be exciting, sure, but only if you're in the mood for it - and it's right to extend the same consideration to your partner when the positions are reversed during sex.
Then again, you might also want to consider how you move during sex.
We all think of thrusting, with the man stroking his penis in and out of the vagina until one or both of you comes - but there's plenty of other ways you can move.
For example, you can rotate your hips in a kind of circular motion while his penis is inside your vagina.
This not only gives him a quite different set of sensations, it also stimulates more of your vagina. But find out what you both prefer - some couples like it more if they stick to the up and down movement!
The man is pretty much in the position that his partner's in during man on top sex - that is, his movement's limited. But he can move more than you might think - for example, he can move you by placing his hands on your pelvis, on your hips, or around your waist.
This isn't a case of him shifting you about - it's more about him gently encouraging you in which way to go and how to move. He can show you how to move in the ways that are best for him, and you can show him what's best for you.
In short, this might be summed up as: do what feels good for you both! You certainly want to try having the woman on top leaning forwards or backwards at different angles to see how it feels for you both, and have her lean right back to check out where it feels best.
If you have the man so he's semi-sitting up, semi-lying, with his back resting against something, then he can support his partner's weight as she leans forward onto him - this gives her more chance of pressing her clitoris on his body and perhaps reaching orgasm while making love.
Variation, as with so much else, is important, and instead of just sticking to one movement, say riding up and down his shaft, try alternating this by moving your pelvis around in a circle.
As you do this, have your man push up his pelvis and move his knees up so he can get deeper into you.
Finally, the reverse cowgirl is always fun to try! You can see a picture of this higher up the page - it refers to when the woman is facing away from her man.
---