Other pages on the site
---
Woman On Top (The "Cowgirl") Position
Click on the pictures to expand them.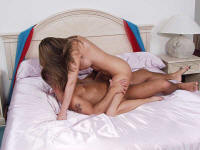 Woman on top lovemaking - enjoy this position to the max!
This sex position isn't complicated or difficult! If you're a man lying on your back with an erection, and your female partner is straddling you, then the basic variation is whether she faces towards your face or your feet as she inserts your penis into her vagina.
Many men find their penis is bent uncomfortably if their partner is facing towards their feet - in fact, it may not even be possible for you to insert your penis into her if it points straight up towards your chest when it's erect.
But as always - you can have a lot of fun trying out this sex position!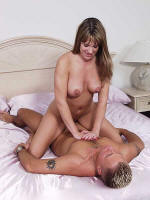 As you can see in the pictures above (which all expand if you click on them), a woman has plenty of opportunity to take a dominant role when you are enjoying woman on top sex.
And since her body is not constrained by her partner's, as it may be in some of the man on top sex positions, she has the freedom to move into the position that best suits her and gives her the greatest pleasure. For any man who wants to know how to make a woman come, this can be a useful tip.
Variations On The Woman On Top Sex Position
The woman lies on top
Woman on top sexual positions can give you a whole variety of sensations, depending on the angle at which the woman lies on top of the man.
What's best for you and your partner will be something you only discover when you try this position, since the angle and shape of each couple's vagina and penis are slightly different.
But a good starting point is to have the female partner lie on top of the male partner with her chest close to his. The physical feelings here can be very strong. Their intensity will depend chiefly on how closely the woman keeps her legs together.
If she lies with her legs inside the man's and keeps them very close together, his penis will be squeezed in a way that is hard to achieve in any other sex position, and though he is likely to ejaculate quickly, the feelings will be stronger for the woman as well.
For a woman who likes the sense of penetration and the feeling of her man's penis inside her, this is a powerful experience. (If you are in relationship with a woman who likes to reach orgasm during intercourse (not all women do!) then this might be helpful information for you - top tips to help you make a woman come.)
It's exactly like the man on top sex position shown below, except that the man and the woman are the other way up....
Obviously sex will last longer if there is less pressure on the man's penis, as there will be when she keeps her legs further apart:
Woman on top positions: more variations
Variations on the woman on top sex positions are all about the angle of the penis in the vagina, and the fact that the woman gets different sensations when the man penetrates her from different angles.
These exciting techniques can be just as powerful for the man because different positions stimulate different parts of his penis and also put different degrees of pressure on it.
---
More About Woman On Top Sex Positions

Empowering Women

Main Pages On This Site

| Home page | Man on top | Woman on top | Rear entry | Side by side |

Sitting and Kneeling |

| Standing | Edge Of The Bed Sex | Difficult Positions | Oral | | Female Ejaculation Videos |

| How To Please A Woman In Bed | The Best Sex Position For You | Sex Advice |

| Tantric Sex | About Us |
---
The woman on top faces towards the man
As you can see, in this sex position the woman has a great deal of flexibility in the angle at which she leans on her man.
Each way of making love will provide deliciously different sensations for her vagina and his penis, and in some cases the different techniques also provide added pleasure for both partners because they can see his penis entering her, or see each other's buttocks, or her breasts.
Another enjoyable thing about woman on top positions is that either partner can play with her clitoris (and his balls) to make this even more pleasurable.
Having her on top while still lying face to face has some additional benefits: for instance, if he is very heavy, or if for any reason deep penetration is unwelcome, it is a much more comfortable posture than having the man on top.
If the woman kneels astride her man as he lies on his back under her, she has the choice of timing and rhythm and she can also control the depth to which she is penetrated.
She can rub her own clitoris either with a finger or against her partner in this sexual position. Although most women prefer making love on their backs, there's no doubt that the second most favorite position for sex is Woman on Top - also known as The Cowgirl!
Men like women on top during sexual intercourse for many reasons. For one thing, they can pass their hands around her buttocks. For another, they can feel the movements of their penis inside their partner. And third, they can increase their woman's pleasure by stroking her labia, breasts, belly and anus.
This sexual technique is a lovers' tender embrace
It's always possible to rest during your lovemaking, to talk, to look at each other, and to feel the sexual energy moving between you. This is especially true with the woman on top.
One sexual position where you can not only do all of this but also look deep into each other's eyes is the one shown below, which is a true lovers' embrace, a position in which you can discover exactly how your partner is feeling and see just what he or she would like next.
Resting will allow your sexual energy to accumulate, so that when you do finally go for your orgasms, they may well be much more intense than they would otherwise be.
In this sex position you can also sit up unsupported if you put your arms around each other.
While you do this, she can clench her vaginal muscles around his penis, and he can twitch his penis inside her to provide enough stimulation to keep his erection.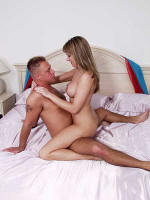 The woman on top faces away from the man (aka "The Reverse Cowgirl") - an exciting sex position for everyone!
We've already mentioned that men may find this sex position uncomfortable, but if you can manage it, intercourse in this position can be a very different experience.
It isn't a position that all men will appreciate, because it puts a lot of pressure on your penis when your partner sits on you facing away - and for men who have a small, hard erect penis that points upright when they are fully aroused, it may even be impossible to get into this position.
It's worthwhile being careful when you try it, to ensure that you don't bend your penis too far forwards and cause yourself any discomfort.
Yet more variations of woman on top sexual positions
There are plenty of other possible variations you can try, some of which are shown below.....
Good ideas for men to make a woman happy!
Be slow, attentive, kind, and connect with her feelings and emotions during lovemaking. Don't dive straight for her genitals, and give her the space and time she needs to get aroused. Hold back on your own desire. Take plenty of time and ensure she is aroused.
This is the art of the Lover! And it will ensure she has pleasure . If you want to know about the Lover archetype, read about male archetypes here: King Warrior Magician Lover. If you happen to be a woman who's reading this, you may wish to check out some information on how to make a man love you. We're not suggesting that it's possible for you to weave a magic spell over a man and have him fall in love with you, but it's certainly possible to use a few feminine wiles that give you a greater chance of making him fall in love with you!
Woman On Top Positions, Astride Her Partner -
What are the Rhythm and Depth of Penetration Needed for Pleasure in this Position?
The man lies on his back, if necessary with a pillow under the base of his spine, and with his legs slightly bent and supporting the woman's thighs. The woman directs his penis into her vagina and then lowers herself down, sitting astride right across her partner's body, as far backwards as possible and facing him. The man keeps mostly still (though he may wish to thrust from time to time); his partner begins deliberate, slow, sexual movements. How does she do this?
Well, she remains sitting upright but alternately raises and lowers her body; during the downward motion, she increases the angle of her pelvis, i.e. she moves her pubic region downwards and backwards.
As she moves upwards, the pelvic angle decreases because she raises her pubic symphysis and thrusts it forwards. The lower rim of the vaginal opening and the front part of her perineum move in the same swing.
The movements of her vulva in this particular variation of the woman on top sex position can be best visualized by remembering the approximate outline of the clitoris and vaginal opening. Think of an oval whose axis throughout its maximum diameter is approximately upright, and whose axis through its minimum diameter runs from back to front; while the direction of the movements executed is as follows: from above, backwards and downwards, and from below, forwards and up again.
How does it feel? During the downward motion of the woman's body, the same localization of sensation occurs as in the position of man on top with the woman's legs extended. As she lifts upwards, the sensation approaches that of the flexed position (sex with the woman's legs raised).
At the moment of deepest penetration, there is the beautiful sense of the penis being fully surrounded by the vagina on all sides....and, if this moment is lengthened by a slight pause in the rhythm of her movement, the partners will experience a wide range of muscular vibration and contraction.
In addition, this sex position allows full penetration of the erect penis into the vagina. Thus the tip of the penis comes into close contact with the mouth of the womb.
If this contact is prolonged and becomes a strong pressure, the glans and the cervix can push each other rhythmically to and fro, as the neck of the womb droops freely and loosely into the vaginal canal, and the woman in this position is able to move her pelvis and abdomen sideways in all directions.
These swaying movements extend to the mouth of the uterus, which rubs against the glans of the penis, which is almost motionless. This friction acquires a delightful intensity because of the steady and concentrated mutual pressure, culminating in a unique and delightful sensation for both partners. In fact, this is a route to great sexual pleasure for a woman in bed.
This cervical friction can be achieved in two ways. First, in a straight line (sideways or backwards and forwards), through rhythmic swaying of the woman's body. Second, with a circular corkscrew motion of the pelvis. Both these methods give a different sense of erotic pleasure. In the circular movement the pleasurable sensations are stronger for the man, but it's hard for the woman to get the exact motion.
Sex positions like this demand the highest degree of muscular control and co-ordination on the woman's part, and a considerable amount of practice. Some women just can't do it, because it's too demanding or because they have a short vagina or because the couple's anatomy just doesn't fit together in that way.
The emotional factors require special mention here. In the woman on top position there's no possibility of mutual embrace or kisses unless the woman leans right forward. On the other hand, the great, unimpeded view of each other's bodies, especially the view the man gets of the woman's body, seated upright and leaning backward, can be very arousing!
Also, in this sex position you have the opportunity of gazing face to face into one another's eyes, so you can see the rising waves of excitement and watch the ecstatic culmination of your lovemaking in your partner's face. This can be extremely arousing and can greatly enhances the pleasure to be derived from this sexual position.
You can also play with each other's genitals and your partner's other erogenous zones such as the breasts, thighs, and bellies in this sexual position. All of this opportunity for mutual caressing makes it one of the best sex positions for mutual pleasuring, especially if the woman wants to take a turn at assuming the dominant role during lovemaking.
It's also a great sex position to use when the man is tired and the woman is full of energy and zest. This sex position (also known as "The Cowgirl") spares the man as much exertion as possible, without depriving her of her natural sexual relief. After all, she has plenty of opportunity to ensure her clitoris gets all the stimulation it needs for her to reach orgasm!
All these are beautiful techniques which show that you know how to please a woman in bed - a subject covered here. You can read a sex therapist's viewpoint
here
about the relationship between men and women in giving and receiving pleasure in bed. He describes techniques for building up arousal and building sexual tension, which can lead to much more powerful orgasms later.