More Pages: Find The Best Position For You For...

| Deep Penetration | Overcoming Delayed Ejaculation | Ejaculation Control |

| Urgent, Passionate Sex | Slow Romantic Sex | Sex During Pregnancy |

| Female Orgasm | Men With A Small Penis |

| Men With A Large Penis | Keeping Sex Alive After 50 |

Main Pages On The Site

| Home page | Man on top | Woman on top | Rear entry | Side by side |

|

Sitting and Kneeling | Standing | Edge Of The Bed Sex |

|Difficult Positions | Oral | | Female Ejaculation Videos |

| How To Please A Woman In Bed |

| The Best Sex Position For You | Sex Advice | Tantric Sex | About Us |
---
Positions for fast, passionate sex
You might think that all sex positions are created equal, but in fact they're not! For example, when passion overtakes you and your sex just has to be fast and furious, you need a position that allows you to thrust hard and fast.
You couldn't do this in a kneeling position, for that requires a careful balancing act, while sitting sex positions and most variations of woman on top will restrict the man's movements so much that fast thrusting becomes impossible for him (though of course a woman has much greater freedom of movement when she's on top).
Intense sex isn't just confined to the first weeks or months of attraction to your partner, though that's when it's most common.
This is the kind of sex that demands instant satisfaction without foreplay; it's all about rapid pleasure, fast action, and powerful orgasms.
If desire hits both you and your partner at the same time, then fine: if not, you can convey the urgency of your desire to your partner in a way that will turn them on - for example, a woman can leave a trail of clothes leading to the bedroom, the last item being her underwear, provocatively placed outside the bedroom door.
And a man can press up against his lover so that she feels the hardness of his desire expressing how much he wants to make love to her.
Another powerful signal men can use is the male sexual gaze - the kind of gaze that says to a woman, "You're mine, I'm going to take you, penetrate you, make love to you and make you come!" Many times, this will make a woman go weak at the knees with excitement and anticipation!
It's also important to act on these desires when they arise. It may seem self-indulgent to drop what you're doing and have sex, especially if you're in a long-term relationship, but by doing so, you can refresh yourself and your relationship. Not acting on the desire to make love when it develops can be unhealthy for you - and your relationship.
So, the question is, "which sex positions are most suited to fast, urgent, passionate sex, which probably means fast thrusting?"
1 Rear entry standing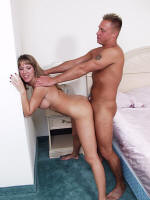 It's probably the one most people associate with fast, "quickie" sex - it's easy, simple and very arousing.

You don't even have to get undressed, for if the woman is wearing a skirt, she can flip it up and move her underwear aside, while her partner can just pull out his erect penis and thrust straight into her.

It's easier if the man holds his partner round the waist as they enjoy sex: once he has her supported in this way, she can also thrust herself back and forth along the length of his shaft, but getting a good rhythm going can be challenging. (A good reason, perhaps, to practice more!)
Keeping to the theme of rear entry, this position is likely to be exciting and arousing - it can feel very wicked!

Once again, the woman need not undress fully: she can flip up her clothes and present herself to her man - he has a thrilling view of her buttocks as he enters her.

A great position for fast sex - but perhaps the danger is that in this position, the man will ejaculate very quickly through sheer excitement, and sex will be over quite quickly.
2 Sitting positions suitable for fast thrusting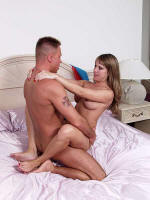 This position, either as shown here, or with the man standing (in which case the woman keeps her legs in exactly the same position as shown on the left) is recommended in the Kama Sutra for fast sex.
If the man is standing, he needs to lean back against a solid surface to get some support.
It can be a tiring position, and it's not a good idea to try it if you feel you might not be able to keep it up - if the couple collapse, her weight bending his penis down can seriously damage it.
To get good, fast sex, the man can move his partner back and forth along his penis as he thrusts - or his partner can thrust herself as he remains still.
3 Standing sex
This position is one which can be used for passionate sex, though it may work better if the man stands more upright and the woman wraps her leg around his waist.
However, when there is a height difference between the partners, it may easier for the woman to stand on the first tread of a staircase while he stands on the ground.
If he has the strength to lift her completely off the ground, she can wrap her legs around him and hold onto him around his neck with her arms, thereby supporting herself and allowing her to thrust vigorously against her man. He can also help her by supporting her around her buttocks.
4 Other ideas for passionate sex
Not all couples will be flexible enough to have sex in the position shown on the left. It also requires a man to have a fairly long penis.
There are many variations of the position which can offer great pleasure, most of which involve the woman placing her feet against her man's chest or raising them over his head.
When he grasps her round the thighs, as shown in the picture on the right, he can thrust hard and powerfully.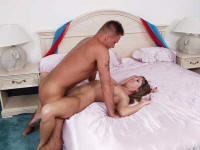 Another highly enjoyable variation is the "edge of the bed" one shown in the photograph to the left. This allows fast and powerful thrusting, as well as deep penetration and intimate connection between the lovers.
---