Rear entry sex positions - a sexual pleasure for men, but a problem for women?
Rear entry sex, also known as doggy style (or even doggie style) is heterosexual vaginal intercourse with the man taking his female partner from behind as she kneels or bends forward.
It's not anal sex, which involves the man penetrating his partner's anal canal. What is it? You can get the general idea from this image.
Rear entry sex positions are exciting and powerful sexual stimuli for men - I haven't met a man yet who doesn't like rear entry sex. But, and it is a big but, women may not feel the same way.
Why? Well, without making light of the pun, because they think they have a big butt. You see, this is a very exposed position for a woman.
She's on view, naked, sexually vulnerable, and her butt, which she may think of as her least attractive feature, is fully exposed to her man's view. No wonder she may spend more time worrying about what she looks like than enjoying sex in this position!
It's also possible that a woman may find this sex position to be a bit, well, animalistic, primitive, basic - but maybe not in a sexually arousing way.
She may actually feel like a sex object as her man slavers with lust over the sight of her rear end ready and waiting for penetration. And that's an important point, for what I think many women lose sight of here is that men are far less critical of their partner's body than the woman herself.
Men! Here Is The Easiest Way To Last Longer In Bed...
If you're a man and you've given up hope of lasting long enough before you ejaculate to be able to take your woman to orgasm during sex, this program has all the answers for you.
It's called "Ejaculation By Command" and shows you exactly how to get your partner to orgasm every time you make love while enjoying unlimited sexual pleasure yourself.
This incredible program will produce total massive passion, exciting sex, loads of orgasms, and - best of all - total sexual satisfaction in your relationship!
Click here to find out all about it....
Ejaculation By Command shows you, clearly, simply, step by step, exactly how to develop total ejaculation control and complete sexual mastery - and gives you the power to decide how long sex will last!
By using the techniques explained in Ejaculation By Command, you'll have absolute control over your ejaculation in only a few days.
You'll enjoy unlimited sexual staying power, and be able to last just as long as you or your partner desire. That means she'll be able to reach orgasm during intercourse, and you can choose to wait until she's really coming before you let go and ejaculate!
Ejaculation By Command gives you the power to be the best lover you can possibly be - in control, long-lasting, and able to fully satisfy your woman during sex.
After all, a man who is about to enjoy rear entry sex is most likely to be completely turned on, and he's probably not mentally critiquing his partner's appearance.
He's just relishing the prospect of the sight of his erect penis penetrating her body, sliding back and forth between her buttocks, entering her most special place - and giving him not only the wonderful physical feelings he gets from sexual intercourse, but also the exciting additional mental thrill that men get from sex in the rear entry sex position.
Having said that, there are many women who do enjoy rear entry sex. It gives them a chance to be raunchy, to be sexual, to fully express the lustful side of their sexual nature - which can be very liberating if a woman was brought up with the presumption that being ladylike means being "sexually demure".
So...a woman may well discover that rear entry sex provides her with the opportunity to be deeply feminine and sexual, to offer herself with total abandon to her man.
And also to enjoy the power she holds in this position, the power of arousing her man and making him desire her body even more than he normally does.
This is, make no mistake, a powerful sex position for both men and women, a position that produces powerful sex!
And so it should! Both male and female buttocks are very arousing to women and men respectively.
Buttocks are a fundamental sexual signal, one we haven't lost touch with even though we may have undergone millions of years of evolution!
To see the buttocks of your partner during sex, to slap them, to see them bounce as you thrust into your partner, to just look at their fleshy roundness - all of this, and more, is a powerful sexual stimulus.
The power of the buttocks to arouse is proven by the way some couples enjoy more extreme sexual stimulation - spanking and slapping come to mind here - that centers on this part of the body.
And, oddly enough, rear entry sex also offers the chance for greater sexual equality during lovemaking. We think of man on top as the archetypal male-dominant sex position. Yet what happens here?
Think of how the woman can move, how she can thrust her body back and forth, whether her man moves with her or remains standing still.
She has the power to bring him to sexual ecstasy, whether he thrusts in rhythm with her or not, and she can angle her hips so that she gets the greatest stimulation in her vagina, the greatest pressure on her G spot.
This means she stands a better chance of reaching orgasm during intercourse than in many other positions.
All in all, the rear entry position can give a woman a sense of her sexual confidence and sexual energy; it is a great way for a woman to get in touch with her Goddess energy, the primal sexual energy which all lies within every woman, and which can be brought out in the right circumstances - such as rear entry sex!
She may even reach orgasm during sex in this position.
And apart from this primal quality, which allows us all to feel the lustful side of our sexual natures, rear entry sex is very versatile.
There are many possible variations of position which slightly alter the angle of the penis in the vagina so that both partners get a totally different experience.
For a woman with a sensitive G spot, that can be incredibly important, allowing her the chance to get stimulation from the thrusting of her partner's erect penis in the way that pleases her best. This is a great sexual position for G spot stimulation!
Are there any drawbacks to this position?
Well, yes, a few. It can be that a woman finds she is a bit sore after sex in this position, because her partner's penis may hit her vaginal walls in a way that it does not normally do when they make love.
If this happens to you, I suggest you use more lube, and change angle slightly - see the sex positions pictures below for more ideas on how to do this.
And there is another drawback - it's often too exciting for a man.
Even those who don't normally experience premature ejaculation may find that they shoot their ejaculation much more quickly.....it's just too exciting!
For men who find themselves in this position, slowing down the rate of thrusting, even withdrawing when ejaculation is likely, and taking sex more slowly and calmly (keep breathing deeply, for example!), may all be helpful strategies.
So, without more ado, here are the pictures which show you some variations of the rear entry sex position.
All of these slight changes to position can produce a huge variation in sensation, so the best idea is for you to decide to devote some time to experimentation, to the sheer pleasure of trying out different ways of making love and discovering which of them is your favorite.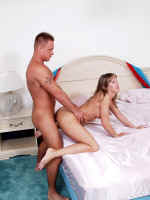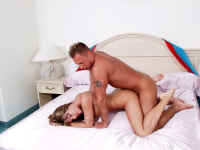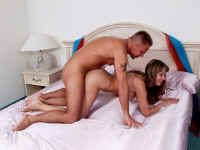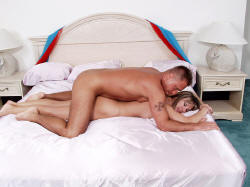 One final observation - rear entry sex positions are pretty good for making love during pregnancy. A woman can support herself with pillows or cushions under her chest as her man enters her vagina from the rear.