More about sitting sex positions
Click on the pictures to enlarge them!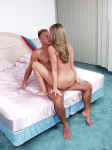 Sitting sex positions tend to be restful and gentle. A couple can engage with each other emotionally while they enjoy the pleasure of resting with his penis inside her. Alternatively, she may wish to ride him, either gently or fast, though she may get tired quite quickly if her leg muscles are not used to the exercise. A big advantage of sex in the sitting position is that the couple can rest whenever they wish, perhaps kissing and cuddling until they are ready to resume thrusting. It's also easy to switch from sitting sex to sex in just about any other position.
This is a very arousing sexual position for both men and women alike. The man can take a rest from being the dominant partner during sex and allow the woman to take charge. She can experience what it's like to be in control of the pace and depth of thrusting, which means she gets to satisfy herself as she wishes. If, for example, she rubs or grinds her clitoris on his penis or pubic mound, she can probably reach orgasm without too much difficulty.
There are many ways to adapt sex in the sitting position to provide different sensations and sexual experiences for the couple. Each variation will have its particular attractions according to the finer elements of what turns on each man and woman. In the picture shown above, if she were to lie back so she were riding him in a squatting position, this would become the classic woman on top position.
This variation allows the man to reach around his partner and fondle her breasts or to kiss the back of her neck. He can also easily reach her clitoris, something that is not possible in the position shown above.
There's something wanton and sexy about the position that our female model has adopted in this photograph. Her legs are wide apart, suggesting a desire for him to fuck her as she plays with her clitoris, though his ability to thrust will be limited by her weight. The movements of the couple during sex in this position sex are much more under her control than his. If he were to lie back, this would be the position known as the Reverse Cowgirl, a name whose origin is not hard to imagine!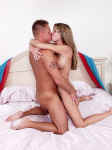 Though not really a sitting position, this is an interesting idea and might be fun to try.
Enjoying sex in a position much more akin to what we generally think of as a sitting position, this couple can enjoy kissing, caressing and playing with his balls and her anus and clitoris while they rest with his penis deep inside her.
When they choose to move, she can gently ride him, spinning out the movement so that he will enjoy a long, long build up to his final orgasm and an explosive ejaculation. She may also be able to reach orgasm herself from the movements of his body against her clitoris, or by playing with her clitoris.
As with all positions, there are many variations which each couple can discover for themselves simply by moving a little one way or another. The variation in pressure and tightness of her vagina will alter the sensations for both him and her.
This is a very romantic and loving embrace. If a couple maintain it for any length of time, they may begin to feel more and more sexual energy flowing between them. If they sit still for long enough, they may even spontaneously reach orgasm.
For men: Another face to face sexual position is possible if your woman's bottom is slim, your stomach muscles are in trim and your penis half to three-quarters of an inch or more above average, though the slimmer you are the less need there is of extra penis length.
You sit on a pillow on the floor with your legs stretched out and as wide apart as they will go, your torso slanting back with its weight taken by your arms stretched out behind you, your hands resting on the floor. (Alternatively, your shoulders can rest against a wall.) Your woman gets astride you, you put your penis in her, and she puts one of her hands on each of your shoulders. Together you both draw up your knees, she almost as far as they will go, you about halfway. You then put a hand on each of her shoulders.
In this position you can rock slowly backward and forward together until you both achieve orgasm. Your penis will have gone little farther than an inch or two inside your partner, so you both get the special sensations when the muscles at the vagina entrance are rubbed, but the top of the shaft of the penis does come into contact with the clitoris and the vulval depression, which can feel very good for the woman.
Even if your penis is not long enough to enter the vagina at all, you can both experience very intense orgasms as a result of the penis-friction with vulva and clitoris. Some people try this position for sexual intercourse on the bed, but the floor provides a firmer base and better sense of balance.