Main Menu
[ Man on top ] [ Woman on top ] [ Rear entry ] [ Side by side ] [ Sitting, kneeling and standing ] [ Edge of the bed sex positions ] [ Advanced sex positions ] [ Oral sex positions ] [ Anal sex positions ] [ Coital Alignment Technique ] [ Squirting Orgasms ] [ Find the best position for you! ] [ Better Sex Position Videos ] [ Sex techniques, tips and tricks ] [ Sex advice for men and women ] [ Tantric sex techniques ]
[ Sitting sexual techniques - penetration, rhythm, and movement ] [ More about sitting sex positions ] [ More about kneeling sex positions ] [ Standing sex positions ]
---
Seated sexual positions - more thoughts & ideas
It is quite astonishing how few couples try making love in positions other than those in the bedroom. For example, the face to face seated sexual positions are one obvious option: the man sits on a chair with his legs either stretched out before him, or, parted, placed to the back so that his genitals are pushed forward. The woman then stands astride him, lowers herself on to his penis and when entrance has been made, sits firmly on his legs. Penetration is reasonably deep, but there are other advantages which no other intercourse position permits.
For instance, when you make love in a sitting position, all the erogenous zones of the woman's back and thighs are within easy reach of his hands; if she leans back with her hands on his shoulders, he can readily stimulate a nipple with his mouth; kissing, both on the lips, on the erotic zones of the throat and shoulders, and deep kissing are possible; he can stimulate her clitoris with a finger more easily than in any other position; while she can reach down and stroke his lower belly, or stimulate his nipples with her fingers, and a hand around behind him can put the necessary pressure on his erector centre.
This position can be reversed, the woman sitting on her man's lap with her back to him. He can reach around her and stimulate both a nipple and the clitoris simultaneously, while caressing her spine and the erotic zones on her shoulders and the nape of her neck with his tongue. She, on the other hand, can fondle his testicles gently and lightly run the tips of her fingers along that portion of the underside of shaft of his penis which cannot enter the vagina.
(Except in the woman-astride sexual positions there is always a portion of the underside of the shaft of the penis exposed, no matter how deep the penetration is, due to the fact that the penis shaft is always longer on the underside than on the upper side.)
Another face to face seated sexual position which can be very satisfactory requires the woman to sit on a table, on cushions to bring her pubic area level with yours, or, if the table is a high one, the man should stand on something firm so that the tip of his penis is pointed at a spot halfway between the table and her navel. She opens her legs so he can put his penis into her, whereupon she puts her legs round his hips and crosses her feet behind him. Both partners' hands are free to caress the accessible erotic zones.
One of the most stimulating caresses in this position is a mutual activity in which the woman, with a hand around each breast, rubs her nipples against the man's while he stimulates her clitoris with a finger. Alternatively she strokes his lower belly with one hand and caresses his spine and buttocks with the other; or she can fondle his testicles while he stimulates one of her nipples with one hand and her clitoris with the other.
The Seated or Sedentary Position For Intercourse
When a couple make love seated, they can do it face to face or facing in the same direction. In the face to face variation, the man is seated and the woman is suspended across his thighs, with her thighs apart; I use the term "suspended" because, strictly speaking, the woman is not seated at all; her buttocks are not supported, for the man's knees are held apart, thus allowing him to open the woman's thighs, expose her vagina, and lift or lower her pelvis at will.
Having made sure she is at the right height, he inserts his penis - his partner can increase or modify the intensity of friction in her pubic and clitoral region, by rhythmic movement of her pelvis to and fro. The couple can adjust the angle at which their pelvises meet, and the depth of penetration will change accordingly. If she decreases the angle of her pelvis as much as possible, and protrudes her vulva forwards and towards her partner, he can respond with a similar movement of his pelvis so that his penis presses forward deeply into her vagina. The whole mutual rhythm is assisted by the man clasping his partner's hips and thighs and pressing them against his own.
When the couple have achieved maximum penetration, they can enjoy muscular vibrations of the penis and the vaginal walls. Another advantage: when the couple are well-matched in size (of their genitals, that is!) there's the chance of establishing mutual friction between the mouth of the womb and the tip of the penis; since both partners can move freely this offers another dimension to the experience of lovemaking. (Although this freedom involves the possibility of uneven movement, of failing to "keep pace" with one another, and thus falling into an awkward, unequal rhythm.)
What are the disadvantages? Well, the seated position does not provide the extreme intensity at the moment of orgasm which may be experienced when the man is laying on his back and the woman is seated astride on top of him. So why try it? For one thing, this position allows stimulation of the clitoris more powerfully perhaps than any other, and enables the man, if necessary, to entirely play the active part. It's also good during pregnancy, being restful and relaxing.
For couples who want to improve their relationship, there is more information on seduction and relationship skills in The Tao Of Badass - find it here - and also on this page of the best relationship information site we have seen - www.relationships-explained.com - that should tell you all you kneed to know about the art of seduction!
Seated, facing the same way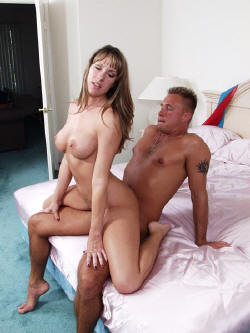 The seated man can make love to his partner as she sits on him, facing in the same direction as he does. The man separates his thighs slightly, but the woman spreads hers as widely as possible in order to open her vulva and facilitate approach. There is a slight risk of the phallus losing its direction during the rhythmic movements of coitus, and slipping out - this can be avoided if the woman increases the angle of her pelvis (i.e. arches her pelvis) and simultaneously leans forward while the man leans back. In this way you can enjoy deep penetration by the phallus. It goes without saying that the woman must be seated far enough back to allow this.
When the woman has some experience, she can execute a sort of rotary "corkscrew" movement, which, when enhanced by corresponding movements of the man, produces something like the sensations of the woman on top position. (She can do this when facing her partner, too.) But the result never equals what can be enjoyed "astride".
However, on the other hand, when both organs are well-matched in size and shape, it's possible to enjoy stimulation of the glans against the mouth of the womb. This friction produces pleasing sensations when seated face to face, or when the woman is on top, astride. The stimulation in this sexual position is less acute, however, because the penetration is less deep, and the penis and cervix are not quite so close together. Thus, on the whole, this "seated from behind" attitude has fewer advantages than some other variations and methods. It is generally adopted because lovemaking can be easily and conveniently combined with erotic play and manual caresses.
---
Men - Here's How To Help A Woman Achieve Orgasm During Sex


If you're a man and you've given up hope of ever getting your woman to enjoy an orgasm during intercourse, this program has all the answers for you. Find out exactly how to get your partner to orgasm every time you make love while enjoying unlimited sexual pleasure yourself. This incredible program will produce total massive passion, exciting sex, loads of orgasms, and - best of all - total sexual satisfaction in your relationship! Find out all about THE SYBIAN to give her orgasms as you make love!
Get Complete Control Over Your Ejaculation, Develop Massive Staying Power, And Satisfy Your Partner In Bed As Never Before!
Ejaculation By Command
shows you exactly how to develop total ejaculation control and gives you the power to choose when you ejaculate during sex!
With the secret techniques and strategies laid out in Ejaculation By Command, you can have absolute control over your ejaculation within days.
You'll also enjoy unlimited sexual stamina and be able to totally satisfy your woman during intercourse.
Ejaculation By Command gives you the power to be the best lover you can possibly be - in control, long-lasting, and able to fully satisfy your woman during sex. Find out how by clicking on the link below - but beware....this program will make you irresistible in bed!
If you're suffering because of the end of a relationship, then the thing you might need to do is get good information on the best strategies to resurrect the relationship - and that's not easy! However, the good news is that there is a new program by Mike Fiore, king of the relationship gurus on the web, who knows exactly how you can get your ex back! It's called, not surprisingly, text your ex back - unsurprisingly because it relies on the use of text messages, carefully constructed to ensure you convey the right message!
The Greatest Sexual Positions - live on video!
Powerful, erotic and informative, this website has an amazing collection of videos which show you the art of sex in every position you can imagine - and many you'll never have seen before.
Click here to learn the secrets of great sex!
Do You Have an Erection Problem?
Do you wish your erection was more reliable when you're making love? Do you sometimes worry that you won't stay hard for sex? Are you looking for an effective treatment for erectile dysfunction? Great! You've found it: cure erectile dysfunction here.
Is This The Kind Of Female Orgasm You Like?
Press > play to see a genuine G spot orgasm with real female ejaculation
How Any Woman Can Enjoy A G-Spot Full Body Orgasm
(like the one in the clip above)
Squirting and Shaking With The Ultimate Orgasmic Bliss...
You're about to see something unique in the history of the internet - a video series devoted to the achievement of whole body orgasm and female ejaculation. (Click here to see it right now.)
And you know what? It's very easy! With the simple, straightforward techniques revealed by Jason Julius, the guy who presents the video series, you'll be able to produce ejaculating female orgasms which make a woman quiver and shake with orgasmic ecstasy in no time at all.
This is the key to the best sex you'll ever have - the primal sexual arousal and desire that these orgasms produce will transform your sex life into a firestorm of burning passion and let you both enjoy massive, mind-blowing orgasms.
This video series is totally unique, and it WILL transform your sex life! You'll discover how to take a woman to a climax which will make her ejaculate uncontrollably; you'll become a masterful lover who can give any woman one of the most exciting and satisfying orgasms it's possible to experience; you'll enjoy better sex than you ever thought possible.
To find out how you can enjoy the ultimate sexual pleasure, click here.